Exklusivt Volvo visar uppblåsbar barnstol
Får plats i en vanlig väska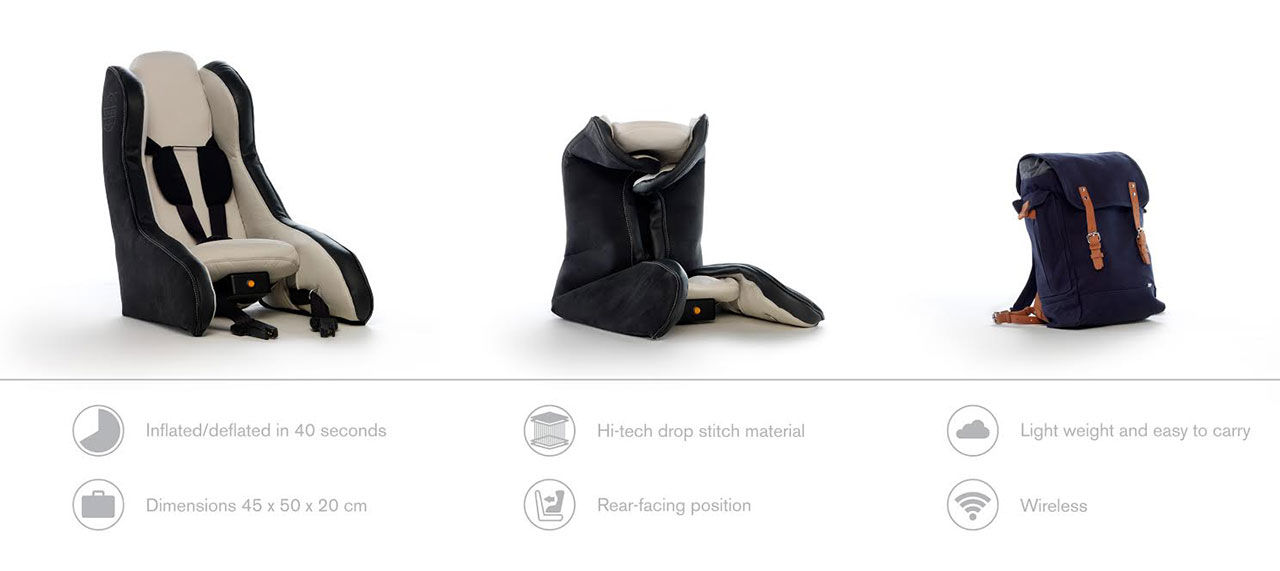 Feber har som enda svenskspråkiga kanal idag fått ta del av Volvos stora nyhet - en uppblåsbar bilbarnstol. Stolen som än så länge bara är ett koncept är utvecklad av Volvos designavdelning i Los Angeles och den ska vara lika säker som en vanlig barnstol.
Fördelen med stolen är såklart att man kan tappa ur luften och på så vis enkelt stuva undan den. När den är tömd får den plats i en vanlig väska och när det är dags att fylla den tar detta bara 40 sekunder tack vare den inbyggda pumpen.
Läs mer i pressreleasen nedan.
Garaget, Bilen,
exklusivt, Volvo, bilbarnstol, säkerhet, koncept
Ingen video laddad. Detta kan bero på adblocker.
Försök igen
Visa Pressmeddelande
Volvo proudly unveils the Inflatable Child Seat Concept, a

revolutionary child seat concept made possible through

aviation research.

Volvo Car Group unveils a brand new rearward-facing compact child seat concept

using technology stemming from international military research. The child seat is

safe, inflatable and lightweight which makes it easy to pack and carry.

The idea was to create a new child seat concept that would be safer, or at the very least as safe as

the best seats on the market but much more convenient. The seat is easy for everyone to use, at any

time and is super-compact enabling storage in limited spaces.

"We used a unique material called drop-stitch fabric when creating the prototype of the seat. This

fabric is very strong when inflated as it can be brought to a very high internal pressure. It is a quite

common technology in the boating industry and was originally developed by the military in an effort to

develop inflatable airplanes", says Maria Hansson, Project Manager at Volvo Monitoring and Concept

Center in Los Angeles.

The seat has an innovative pump system that is silent and efficient in its construction. The seat inflates

in less than 40 seconds and deflates with an integrated pump. The total weight of the seat less than 5

kg, half the weight of a contemporary seat, and it is constantly online via Bluetooth enabling a wide

range of features, including remote controlled inflation.

"For me, child safety is always the number one priority. Thanks to Volvo's extensive R&D department

we were able to implement a couple of 'out of the box' ideas. We ended up with a well designed, super

convenient and safe concept that truly is designed around the needs of the modern family," Maria

says.

The Inflatable Child Seat Concept faces the rear of the car, as it is the safest way for children to travel.

A child's neck is under development and not as strong as an adult's neck. In a frontal impact collision,

the head of a forward-facing car occupant is thrown forward inducing great stain on the neck. Children

therefore need special restraints and to face the rear of the vehicle until at least 3-4 years of age.

"Actually, it would be better for all of us to travel facing the rear but given how cars are designed

nowadays it's not feasible. Young children, however, can and should travel facing the rear of the car

as long as possible", says Lawrence Abele, Design Manager at the Volvo Monitoring and Concept

Center.

"The goal was to design a seat as safe, or safer, than anything on the market right now but second to

that I want everyone, including kids to be exposed to great design every day," Lawrence ends.
528kg
0

Bobby Green
fre. 11 apr 2014, 14:54