Ny AMG-barnvagn från Mercedes
Klart bebin ska åka flott
För två år sedan slog Mercedes sina kloka huvuden ihop med barnvagnstillverkaren Hartan. Nu har det blivit dags att visa upp en ny omgång med vagnar och denna gång är det såna som matchar din AMG-bil. Mest tydligt blir detta färgerna och på vagnarnas fälgar som ser ut som ett par AMG-diton. I övrigt har vagnarna allt man kan tänkas behöva för att barnet ska få en trevlig åktur. När man har rullat klart ska den som vi kan se få plats även i bilar med lite slankare former. Som väntat finns det mängder med tillbehör och utrustning till vagnen, precis som det finns till bilar idag.
Vad man får betala framgår dock inte.
Garaget, Tillbehöret,
AMG, barnvagn, Mercedes, Hartan, stroller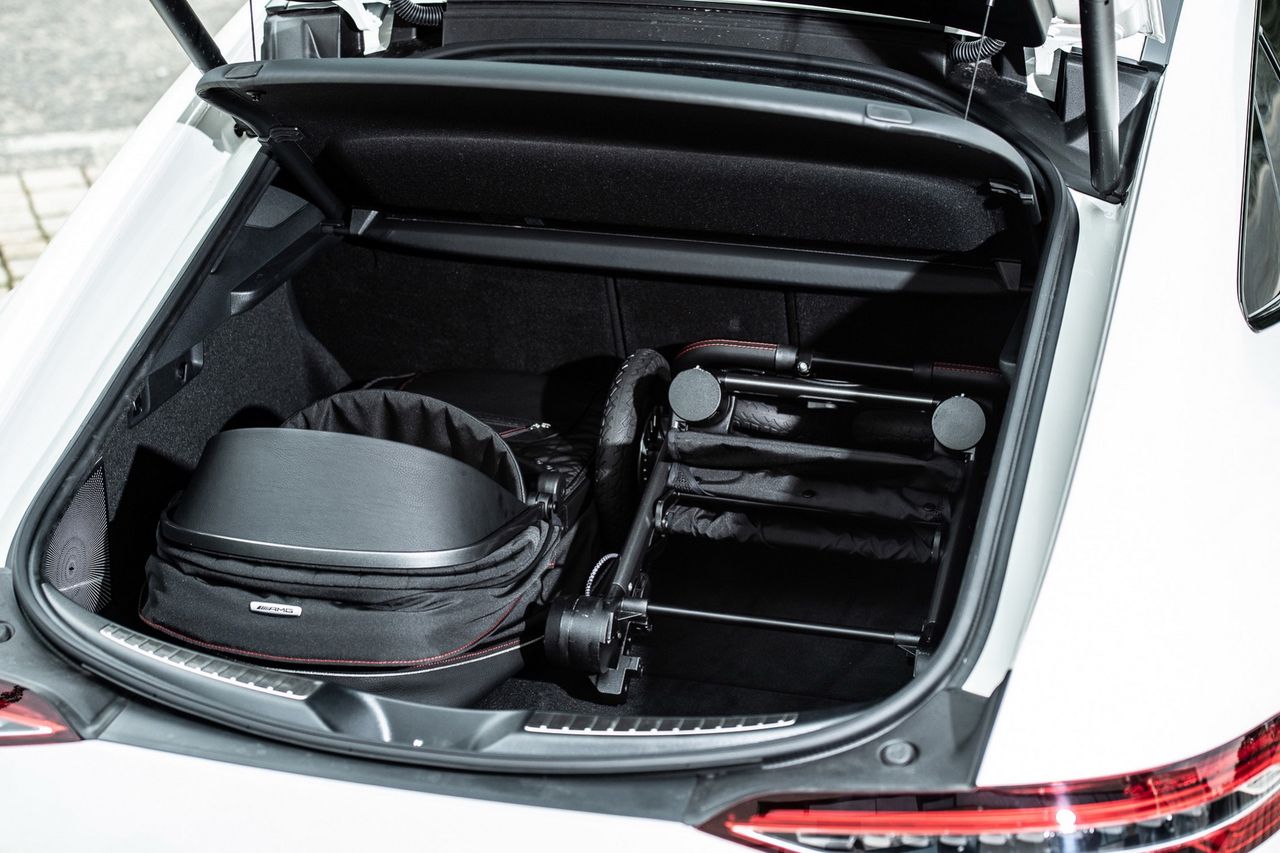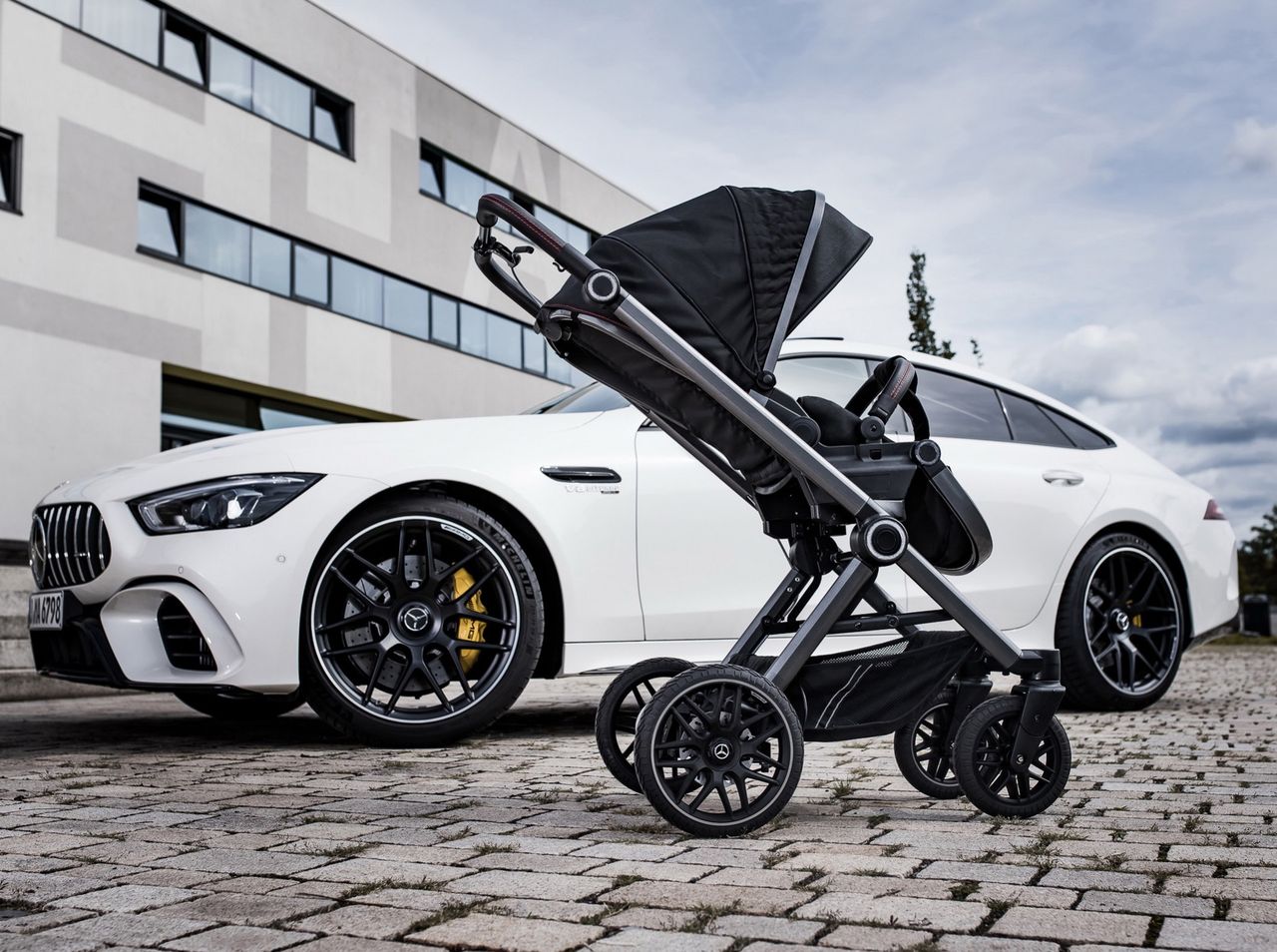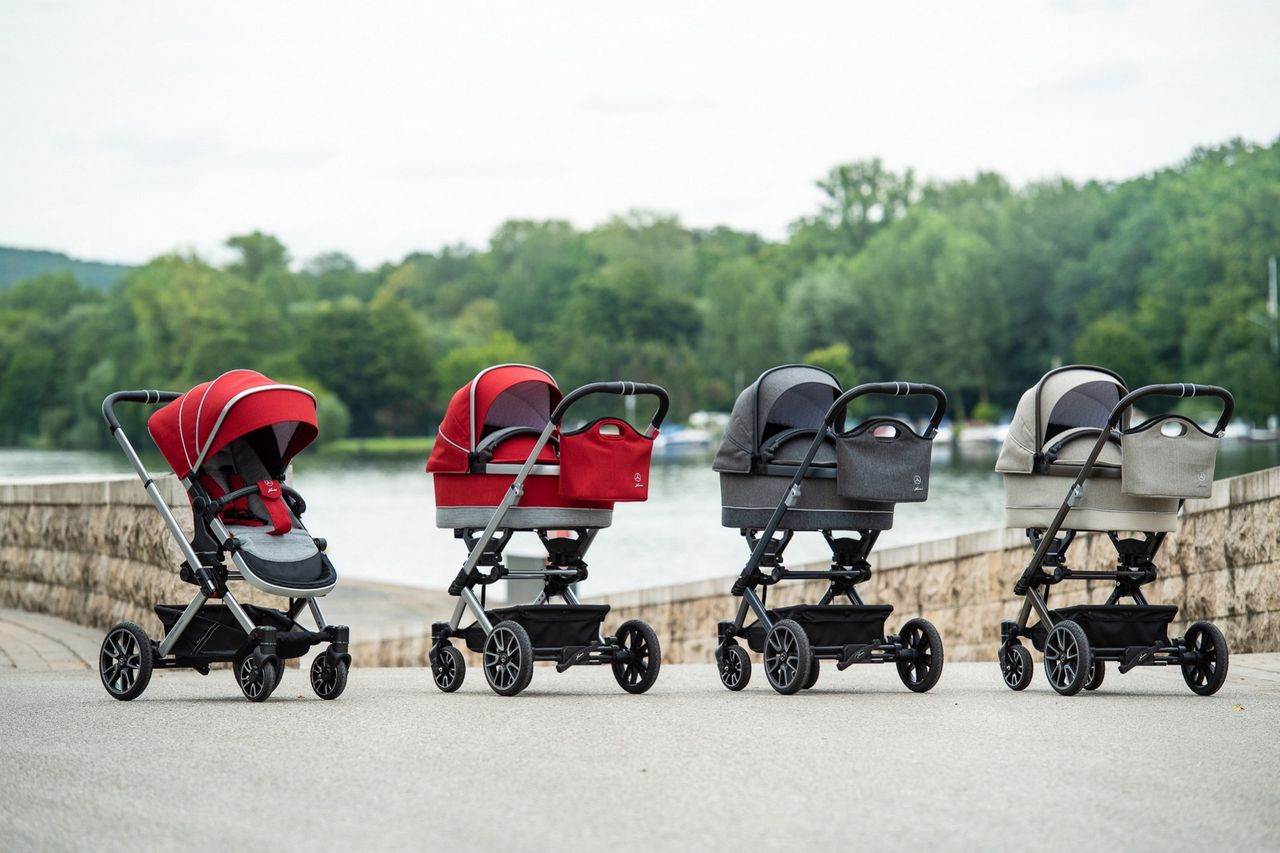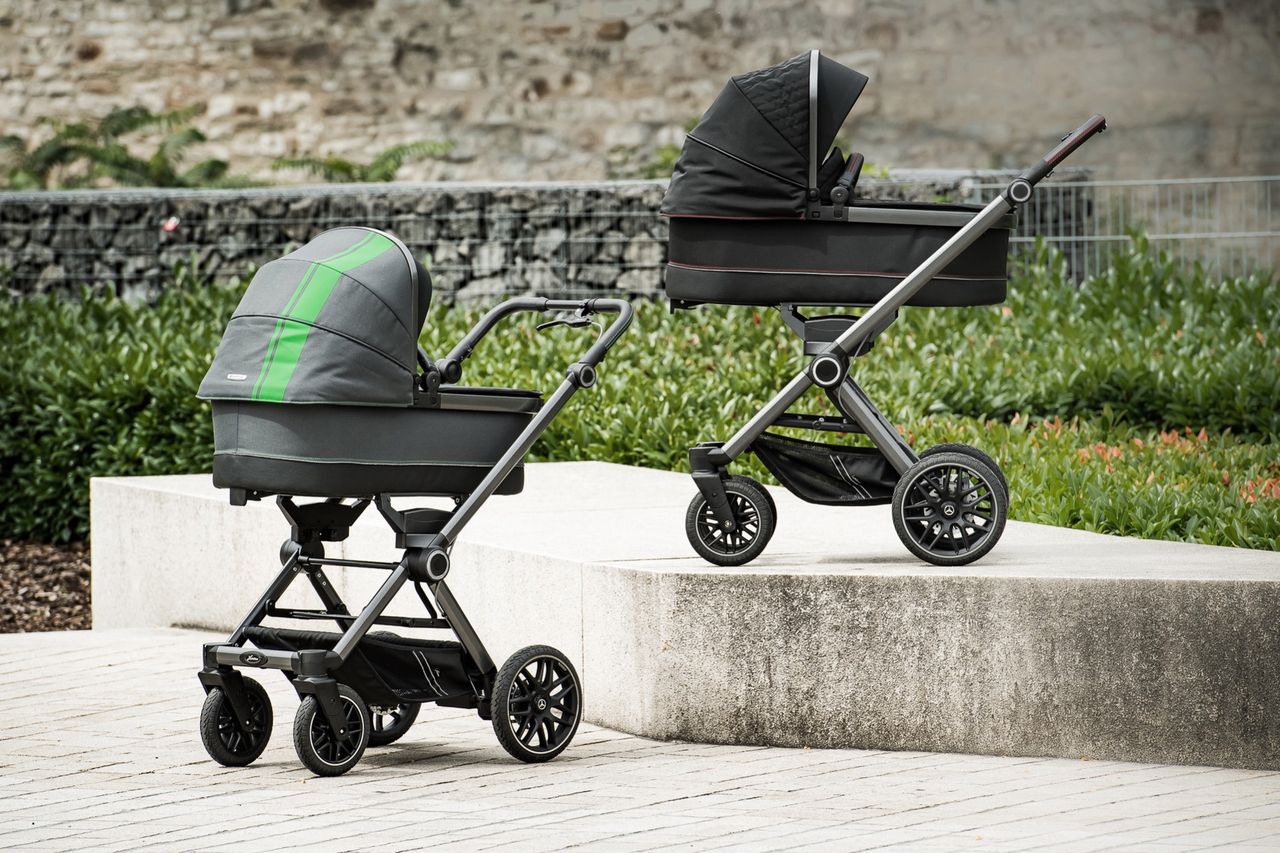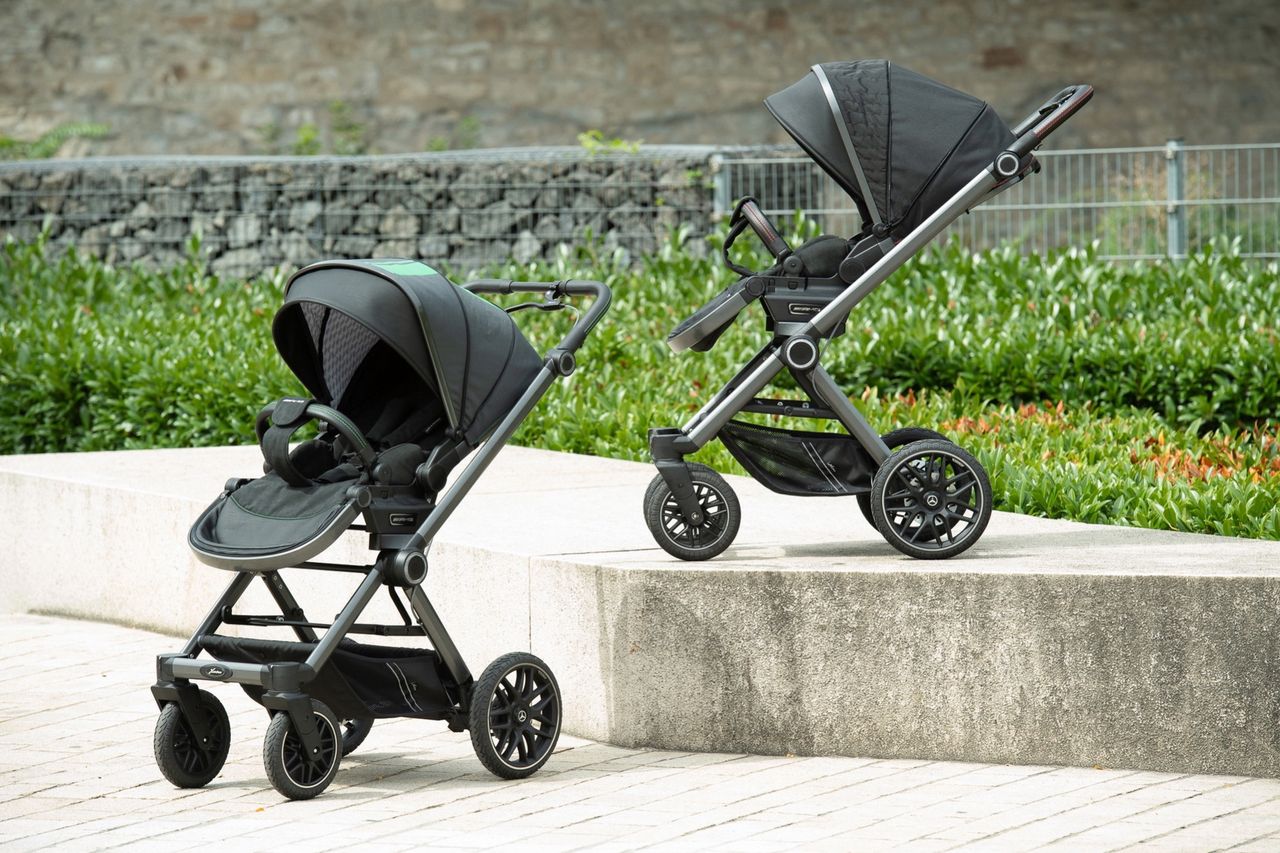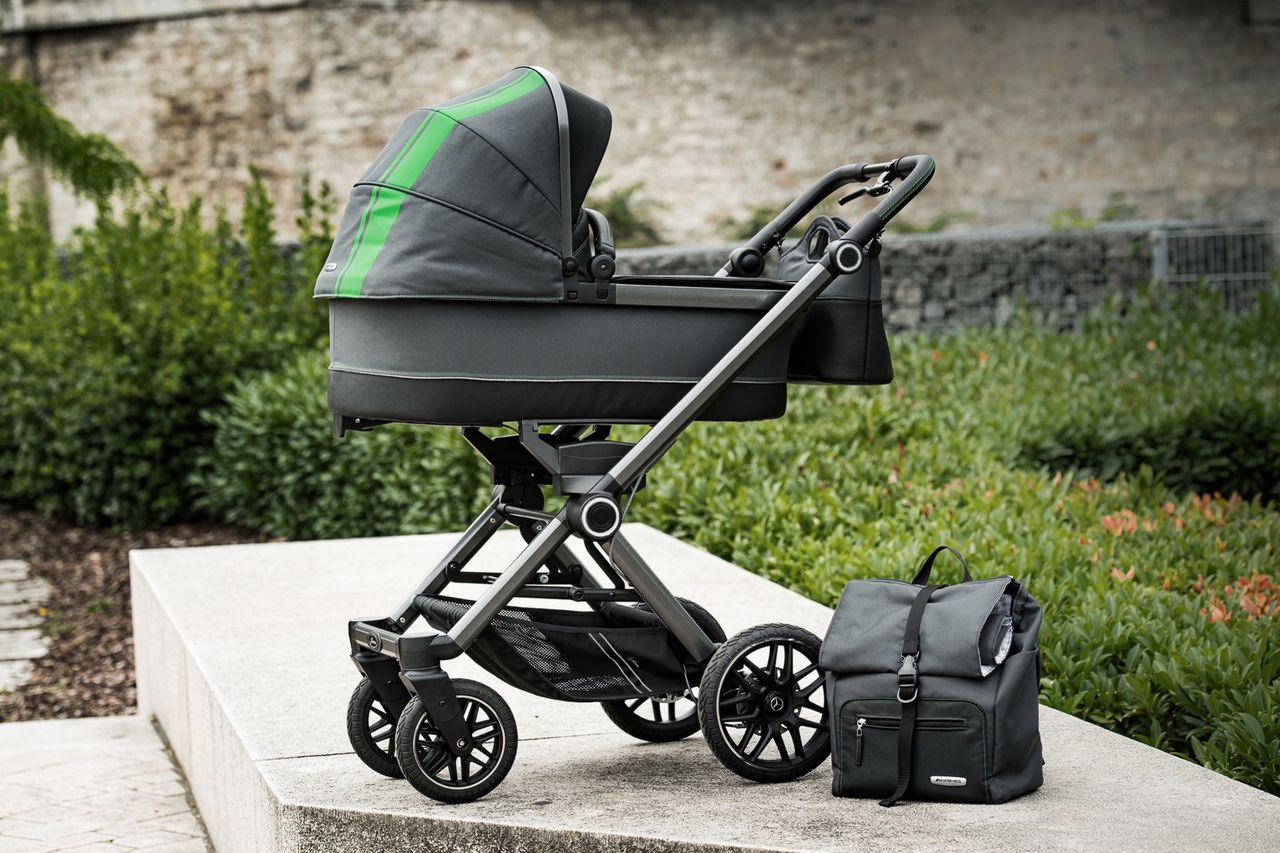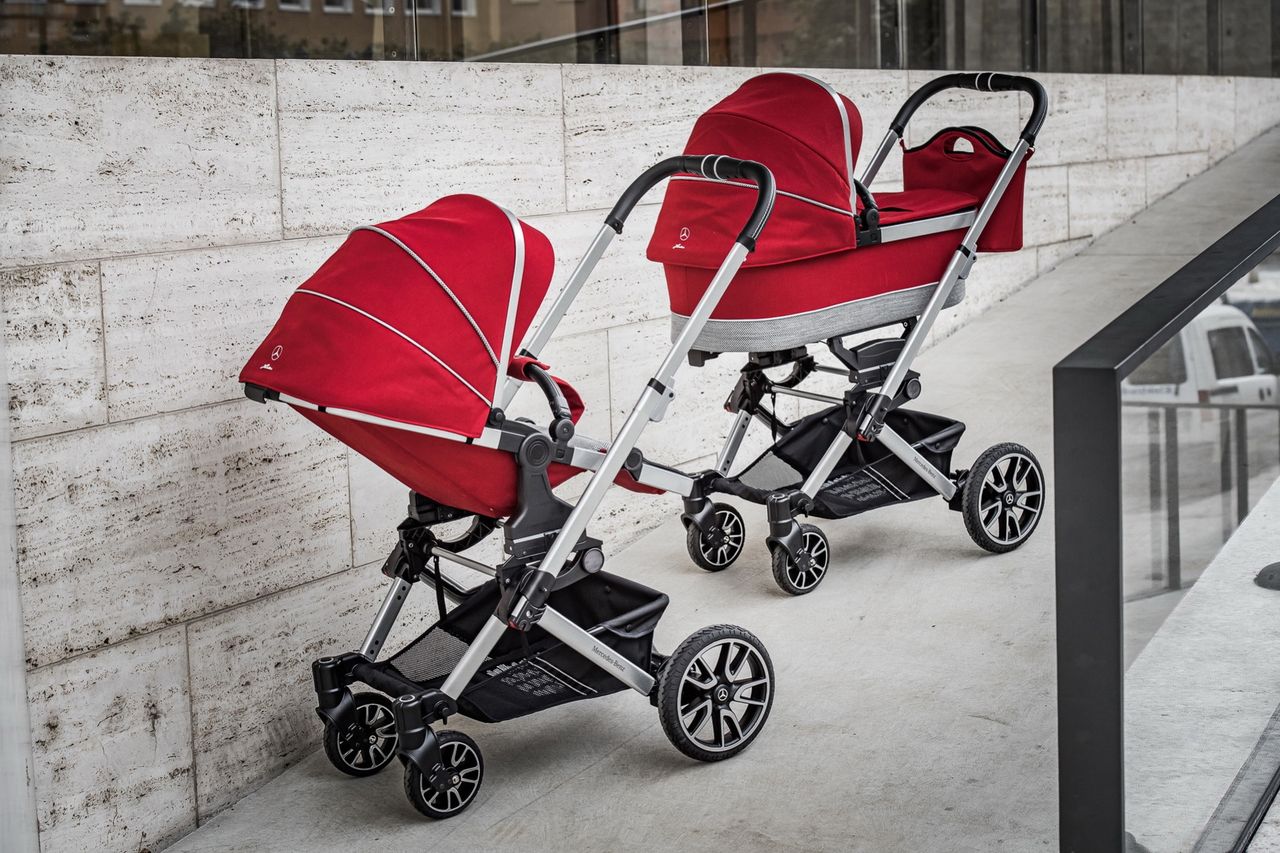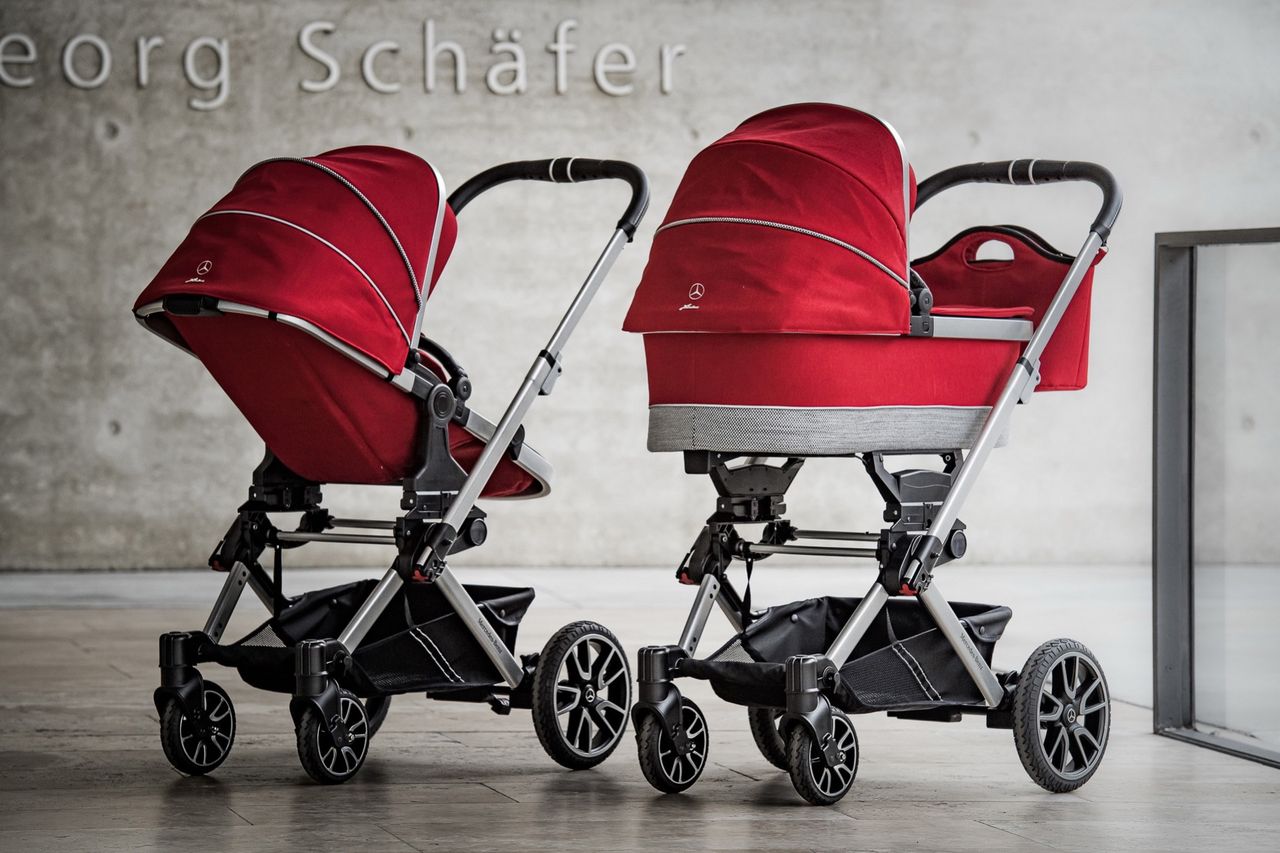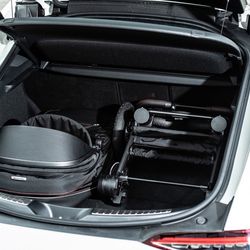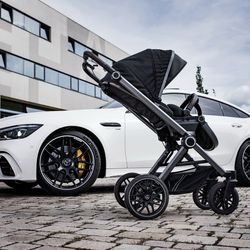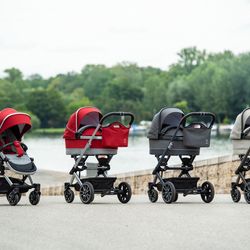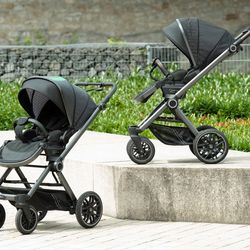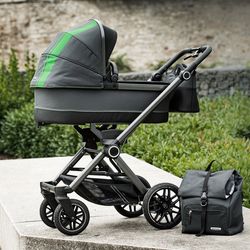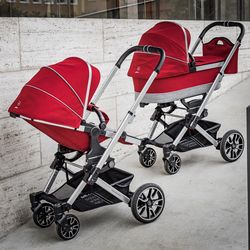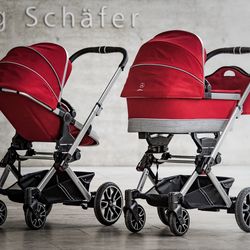 Visa Pressmeddelande
New speedster for the little ones: New stroller editions in cooperation with Hartan

Good news for parents who want a sporty, practical and elegant mobile base for their children: In 2020/2021 there will be a new additions to the Mercedes-Benz strollers. This Avantgarde series, a cooperation between the Stuttgart automotive company and the German premium manufacturer Hartan, appears in four brand new designs. The AMG model has been completely redeveloped and will be available in two different designs.

Driving performance is demonstrated by the new generation of the AMG model stroller developed by Hartan and the Mercedes-Benz Design Team. The evidence in this regard is provided by the new generation of the AMG model developed by Hartan and the Mercedes-Benz Design team. Large swivelling wheels with suspension for any terrain make the stroller a convenient companion not only on familiar paths, but also for off-road activities. The standard-fit parking brake, the height-adjustable push handle, the central arresting system and the five-point safety belt with shoulder pads ensure maximum safety on any terrain. Thanks to the ultra-compact folded dimensions, which including the seat unit are just 69 x 58.5 x 31 cm, there is also space for the Mercedes-AMG stroller in the boot of sporty vehicles.

Optically, the super sports stroller among the baby carriages convinces with its high-quality refined rims, which match the original AMG cross-spoke rims and the "Microfaser DINAMICA" seat covers used in AMG vehicles, which are characterized by their functionality and durability. With the new DESSIN, there are two colours to choose from: black and graphite. While the deep black version underlines its uncompromisingly sporty character with red decorative stitching on the grips and protective bar in leather look, the graphite grey model shows its dynamism through its imitation of the Mercedes-AMG GT4 racing car with its green stripes on the roof and the green seams. The graphite grey chassis also picks up on these colour accents.

Despite all the sporty refinements, the children do not have to forsake maximum comfort. The seat is reversible and equipped with a safety click system, allowing the child's position to be changed with one hand from facing the big wide world to facing the smile of its parents. The backrest reclines in several stages to horizontal sleeping position and the footrest is flexibly adjustable as well. A retractable canopy with a sun visor and a ventilation zone ensure comfort in any weather.

To ensure that the AMG baby carriage is a reliable companion from the very start, the range of accessories includes a particularly light and dimensionally stable premium folding carrycot in a matching design with double topstitching in identical colours. And because a comfortable lying position is extremely important for the baby in the first few months, the baby shell is equipped with a standard Softline climatic mattress, extended lying surface, floor ventilation and an adjustable carrying handle to avoid top-heaviness.

Also available as an accessory is a stylish changing backpack in AMG design. This sporty accessory scores points with its well thought-through interior compartments and versatile use. For smaller items such as a cell phone, keys, wallet or bottle, the AMG baby carriage comes with a practical Bag2Go, which can be easily attached to the push handle or carried as a shoulder bag.

In addition to the new AMG model range, the popular Avantgarde baby stroller series from Mercedes-Benz and Hartan has also been revised. Special highlights are the elegant, colour-trimmed chassis with Mercedes-Benz pattern, available in the DESSIN "Selenit" and "Hyacinth". Also included is the magnetically closable seatbelt system with its effortless and simple operation. Double fold-out sun visors provide optimum sun protection. Trend colours for 2020/2021 are the "Selenite" design, which is presented in hip-shades of grey and contrasted with Petronas green, as well as the "Cavansit" DESSIN, a finely tuned navy blue combination. The collection is rounded off by the eye-catcher "Hyacinth" in fiery red and a "Macchiato" DESSIN in elegant beige.

All Avantgarde models are characterised by the highest comfort, safety and production quality. The most important features in matters of functionality include a low tare weight resulting from the combination of an aluminium frame weighing just 8.9 kg and a GTX seat unit weighing just 4.1 kg, and the agile suspension with its eco-friendly Solight Ecco air chamber tyres. The iconic feature of the Mercedes-Benz Avantgarde stroller is the striking rim in black-silver 5-twin-spoke design. The Avantgarde comes with a high-quality, multi-adjustable and adaptable seat unit with all the comfort and safety features. Practical accessories such as the premium bag, sunshade, windbreak, foot muff or nappy bag complete the stylish appearance.

The new Mercedes-Benz baby strollers Avantgarde and the Mercedes-AMG strollers are now available in leading baby specialist shops. Further information on the all new "Mercedes of baby strollers" is also available from Hartan at www.hartan.de.
Barnvagnen för Mercedes-älskaren
Lev varumärket
Om du är en äkta Mercedes-nörd så ska såklart ditt barn också åka stjärna. Mercedes har nu tillsammans med Hartan släppt en barnvagn och modellen kallas för Avantgarde. En liten stjärna i "fronten" och hjul inspirerade av de som finns på C-klass är det här en värdig första resa för den lilla stjärnan.
30.5°
0
Emmaljunga visar upp sin eldrivna barnvagn
E-barnvagnen NXT90e är utvecklad tillsammans med Bosch
Tidigare den här månaden skrev vi om att Bosch och svenska Emmaljunga hade utvecklat världens första eldrivna barnvagn tillsammans och nu har Emmaljunga presenterat den eldrivna barnvagnen NXT90e officiellt. Med "e-barnvagnen" Emmaljunga NXT90 eStroller blir det möjligt för föräldrar att få lite draghjälp i uppförsbackar och bromshjälp i nedförsbackar med hjälp av barnvagnens två eldrivna motor. Det finns även lite intelligens inbyggd så att barnvagnen själv ska känna av vilken typ av underlag den framförs på och i vilken lutning vilket ska aktivera barnvagnens hjälpmotor automatiskt om man ställer in den på det. Förutom att driva barnvagnen kan man även ladda upp sin mobiltelefon via barnvagnens inbyggda batteri vilket kanske kan vara perfekt för alla nyblivna Pokémon Go-föräldrar. Emmaljunga planerar att släpppa NXT90 eStroller någon gång i slutet av året men vad den kommer att kosta har man än så länge inte avslöjat.
31.0°
0
Den här ungen fick den absolut fetaste barnvagnen
Replika av Batmans Tumbler
Josh Earl dyrkar Batman. Han har mängder av Batman-prylar över hela huset och det finns verkligen ingen annan superhjälte än Läderlappen för honom. Denna fanatism smittar sakta men säkert av sig på sonen Collin och därför fick frun Maressa en idé - varför inte försöka fixa något Batman-aktigt som både far och son kunde ha glädje av? Hon kontaktade då Super-Fan Builds som bygger coola saker som folk frågar efter, och de svarade då genom att bygga en barnvagn inspirerad av Tumblern från filmen The Dark Knight.
44.7°
0
59kg
0

Bobby Green
tors. 1 okt 2020, 17:00